Even before the girls were born, I had started using natural product. My work trips to US would not be complete without a visit to Whole Foods Market; and every time I enter a organic shop locally, I love glancing at the natural skin care and toiletries.
Since the girls' arrival, the house has more bottles/tubs of natural product, their shampoo, soap, lotion, sunblock, as much as I can, I'll get those made with natural or organic ingredient. My only concern buying these product was price. The price difference of a bottle of natural shampoo vs a mass produced shampoo locally is huge!
Then, my friend recommended me iHerb.com, a web shop selling such a wide range of natural product, I get high just glancing!
These are some of the bigger brands you can find on iHerb at a fraction of the local retail price for these same product.
Badger
They are famous for their balms and sunscreen.
Credit from Badger
Weleda
The girls first toothpaste was their Children's Tooth Gel.

Credit from Weleda UK
Nordic Naturals
Famous for their Omega oils.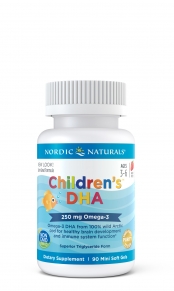 Credit from Nordic Natruals
These are the product that I'd been buying before being introduced to iHerb, and they are very costly locally (I can only get Nordic Naturals from Singapore though).
Since being introduced to iHerb, I'd bought 8 times from them, taking advantage of their free shipping promotion. I bought toiletries, supplements, tea, lip balms, and even Homeopathy remedies.
The shipment is via normal airmail, and sent in boxes. These were my last loot.

Each box was well padded, came with 1 or 2 free gifts (so far I'd received pens, jams, tea bags).

The previous purchase was more to stock up toiletries for the girls and myself.

For bottles of liquid, normally they are wrapped in zip lock bags. One of the shampoo bottle leaked but it did not wet the rest of the items shipped in the same box.

Now iHerb is giving out free international shipment via DHL global mail, if you purchased USD$40 and above and the combined weight of the items is less than 4lb. (I normally break my orders into many 4lbs to enjoy free shipment) and items normally arrive in 2 weeks after order is placed.
If you are ordering for the first time, enter this code when you check out JIK325, you'll get USD$10 off on your first order! Or you can just click on this link to start shopping.
(No, this is not a sponsored post, I'm sharing this with you, so you can also enjoy natural product at a cheaper price.)