We have a little home made pohpiah lunch yesterday to celebrate Zara's 1st birthday. It was a small affair, just our immediate family members and Daddy's best friends (mine pulled out because their kids were not feeling well). It went very well, the lunch itself, but the star of the day, Zara, wasn't feeling very well these few days, so was not in her best element.
She was down with fever on Thursday evening and it subsided on Friday. Then on Saturday she purged and vomited during the day; making her very whinny and clingy. Even while I had to start some of the Sunday's lunch preparation at the stove, she 'glued' to me.
At 3am yesterday, she woke up and started wailing. When we asked her "Where Pain Pain?" She pointed to her stomach, and started crying again. We initially wanted to just pacify her and get her back to sleep, but she was crying non-stop, after about 30mins, we rushed her to Sunway Medical Emergency ward. The sleepy Dr on duty had a look at her and concluded she had 'wind in the stomach'. She prescribed some anti-colic solution and sent us back. We got home at 5am. Not sure if it was the medication, or pure exhaustion, Zara slept soundly after that.

After 3hrs of sleep, it was time to get up. Although I had my maid and King's Wife's maid to help out, I sill had to run around to instruct them on how certain things should be done, and how they should be served. The whinny baby was joined to the hip with me throughout.
Just before I showered her, she purged, and then was very fussy, and aggitated. I tried to get her to nap so that she'll be more rested, and will be in better spirit.
At 11:30am, people started to arrive. After my aunt, who came with the pohpiah skins and her famous home made turnips arrived, the lunch started. Zara also woke up about this time, I changed her into her new clothes, and brought her downstairs to join in the rest.

She was not as energetic as her normal self, but she still got pretty excited seeing all the people making their own lunch/pohpiah. I gave her a piece of skin and some vege, so that she can join in the fun. She however, didn't have the appetite to eat anything, she just tore the food up into pieces, and made a mess at the table like her usual self.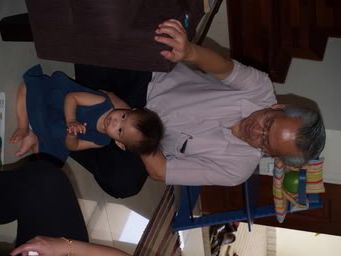 When King's Wife's arrived, Zara was excited to see her che-ches (cousin sisters), and immediately went to them.
Samantha was happily entertaining her while Zara threw up, all over Samantha's lap. Poor Sam's skirt was drenched in puke. Zara was not disturbed by any of it, and continued playing once we cleaned her, and removed her pinafore.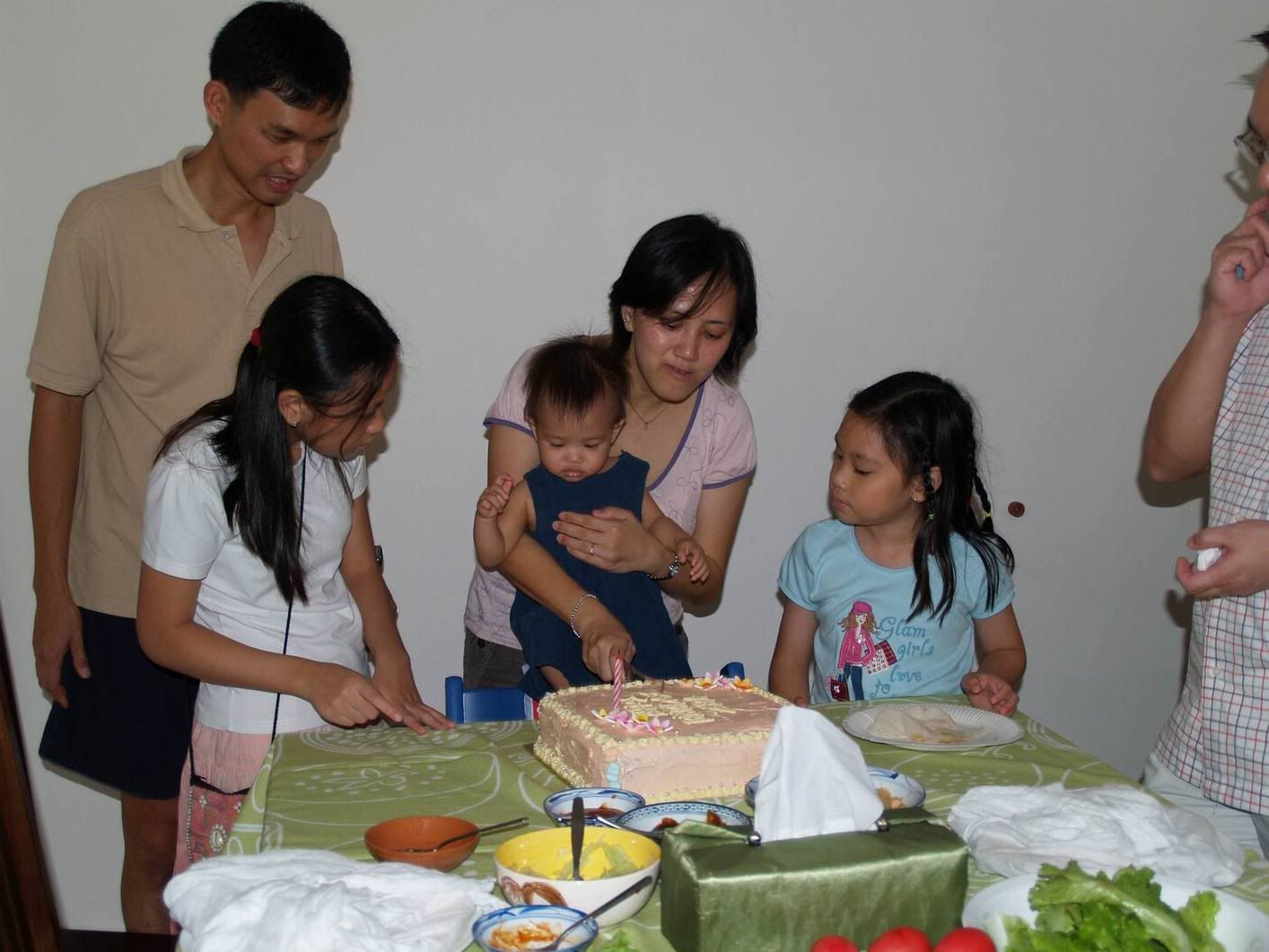 When it was time to cut the cake, she couldn't relate to the cake and the candle thing, but she was very excited when the Happy Birthday song was sung.
I got her a big fat carrot cake from Marmalade Cafe, thinking that this was something she can eat since it's quite a 'nutritious' cake. However, again, Zara didn't want to have any when I offered it to her and was showing sign that she was tired and needed a nap.
While she slept, I had more pohpiahs (probably 6 all in) and a big fat slice of cake. My excuse is I do need the energy to pacify a whinny kid.
When Zara woke up from her sleep, she again had diarrhea, this time her stool was totally watery. We were very very concerned. We had to almost shoo all our other guests home (by this time it was only my sis, my aunt and my in-laws around), to bring Zara to see a pediatrician.
Dr Chye, who operates in Subang, told us that Zara probably had food poisoning, but since her diarrhea and vomiting is not THAT frequent, we will just have to let her fight it herself. She was given some syrup to help with her colic pain, and then some rehydrating salt.
Zara refused to sit in her car seat after we left the Dr's. She had big drops of tears rolling down, reaching her hands out for me. I gave in, and just a few moments after she was out of the car seat, Zara puke again, this time all over me; and then again during dinner after just a few mouth full of porridge.
However worrying it may all seem to me; she behaved normally after that, it didn't seem to bother her if she had done a watery poo, or puke. It's probably a good sign that it was not causing much discomfort to her (my consolation).
Not a very good birthday celebration for her, and I smelled of puke at the end of the day.
Mummy just hope she gets well soon.