We were lucky, we were told. It was a clean miscarriage. Nothing remained in my uterus, everything was 'expelled', there was no need to do a D&C (which can be quite damaging to the uterus).
It was actually quite common for people to have miscarriages. 1 in 4 pregnancies, higher risk for people with PCOS; so it seemed. A consolation NOT. It my case, it was most likely caused by the genetic make up of the embroy, nature's way of purging away bad 'product'.
Dr JL told us we could start trying again after 3 months. My Chinese Dr told me to try again only after 6 months as I should nurture my body back like someone who'd just given birth; and she prescribed 30days of confinement herbs for me.
I continued my vigorous work out schedule to numb my senses (oh well, I have to admit I enjoyed it as well).
I stopped my fertility treatment, but continued to see the Chinese Dr to nurture my health.
We had sex, for the fun of it, it was no longer scheduled and I didn't have to lift my legs up for 20minutes after our act.
We celebrated our 5th year anniversary in a remote island and a national park in Thailand for a total of 10days, best trip ever.
I threw a surprise birthday party for Daddy's 40th birthday. That night, we were merry, he had a few oh-kao (Guiness Stout). He was in high spirit, surrounded by his best friends. When his friends left we went wild, we were all over each other we had mind boggling sex; and sod the condom!
Zara was conceived that night.
On the 1st few weeks of my pregnancy, I was obsessed, I went to the toilet to check for spotting every 30mins. I prayed that I won't see any streak of blood.
We went to St Anne's Church to ask for protection and blessing. Promising we would bring our baby here to give thanks if all end up well. I drank the holy water diligently once every week.
The pregnancy was kept hush hush until I saw her heart beat in the ultra sound, and no celebration until much later.
I had to do an amniocentesis on my 16th week because of my age and also because my triple test came back positive. In the test, a long needle has to be poked into my belly to extract amnionic fluid. I was extremely worried, about the skill of the Dr, as well as the damage it could cause.
I was assured by a friend, who worked with a lot of gynaes because of the nature of her job (I only knew her later or I wouldn't have met the other horrible Drs), that Dr JL is one of the best, because he has a lot of patients, and have a lot of experiance with carrying out the test.
The first attempt, Zara was way too near to the skin of the belly, even with the Dr thumping his fingers on my skin, she wouldn't move! On the next attempt, I spoke to her before we went to the hospital and asked her to coorperate. In the scan, I could see her actually crouching at one corner. When the long needle was inserted into my tummy deftly, I prayed that she didn't move a muscle.
The Dr casually said that if the result came back and the baby has genetic defect (Down Syndrome mainly), I could choose to terminate it (Wow, that is soo comforting). It was the longest 3 weeks of my life (to wait for the result)!
When I got the result and knew every thing was fine (and confirmed she's a girl), we celebrated!
During the rest of the pregnancy, I prayed that she would be strong and healthy and normal (not hideously ugly) every day.
I wanted a vagina delivery. Dr JL did all he could to make sure I have one. When she was delivered, while enduring the pain, I prayed hard that she would be alright, no complication (and please, not now!!).
When I heard her first cry, I forgot about the pain of child birth. When she was placed in my arms and I saw her for the first time, I was overwhelmed with emotions. I cannot describe the feelings I had. I thank God. What I'd gone through was worthwhile, she's in my arms now, strong and healthy and normal, our little Zara. Daddy's very belated birthday present.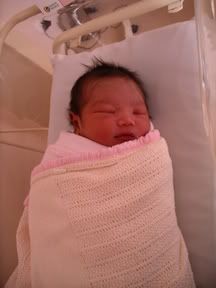 Afterthought
Even though the journey has been a long and bumpy one, we have been blessed. She's our greatest joy. Occasionally, when we look at this little girl, Daddy and I still can't believe she's our daughter.

I didn't mind sharing my experiance with those who were trying even before I had Zara; but I'm not sure without Zara, would I still have the courage to write this?People who have tried and wanted to give up, please don't, I have my story to tell, because if I did, I would not have Zara now.People who have gotten pregnant unplanned and wanted to give up the child, please don't; count your blessing; there are people who are doing all they can to conceive, so don't take yours for granted.
I had recommended the Chinese Dr to many people (some of them did get pregnant). Even if she didn't help you with your conception, she would have made you healthier, so there's really nothing to loose. If you are interested, here is her address:
Chi Ren Chinese Medical Hall (??)
63A, Jalan Petaling Utama 7,
Batu 7,
Jalan Klang Lama
Tel # 77832341
Pls note she's closed on both Mon & Tue
Wed~Fri 10am~4pm
Sat~Sun 10am~2pm
Her charges is about RM50 per visit, with 1 week's herbs and medication.